Academic language proficiency consists of vocabulary, grammar, and a discourse style of academic, or professional language. Traditional teaching approaches include describing the language, preparing materials and explicitly teaching academic language. This has never worked. Whether you are teaching university students or just hoping to improve your own academic language proficiency, join Stephen Krashen in these four recorded sessions from his iTDi Advanced Teaching Skills course to find out what does work.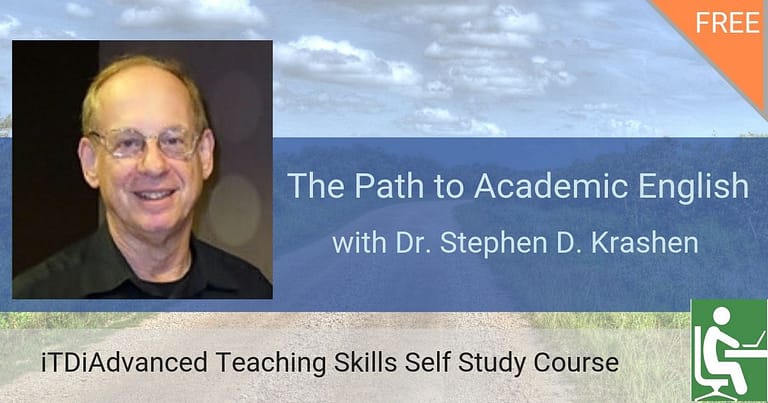 To be proficient in using academic language, we have to 1) know the vocabulary, grammar and discourse style of academic language and 2) know the language of our specific subject matter. Proficient language users also employ a range of strategies that help them acquire academic language and subject-matter learning. During the four sessions, you'll explore:
Comprehensible input and compelling comprehensible input
The path to academic English
Access to reading material and the importance of libraries
From the US Common Core to "Test the world," or "Take from the needy and give to the greedy"
Get your professional development certified with iTDi
In this course, you will read articles recommended by the instructor, watch four recorded sessions, and answer four discussion questions. (This is not a live course.) If you would like to receive a Certificate of Completion verifying 20 hours of professional development credit, email your answers to these questions in a separate word document to
su*****@iT**.pro
for evaluation. In the body of your document, please include your name as you wish it to appear on your certificate, your email address, and the name of course you have completed.
Take this course
About Dr. Stephen Krashen:
Stephen Krashen is a linguist, educational researcher, and activist. Dr. Krashen has published nearly 500 papers and books, contributing to the fields of second-language acquisition, bilingual education, and reading. He is credited with introducing various influential concepts and terms in the study of second-language acquisition, including the acquisition-learning hypothesis, the input hypothesis, the monitor hypothesis, the affective filter, and the natural order hypothesis. Most recently, Krashen promotes the use of free voluntary reading during second-language acquisition, which he says "is the most powerful tool we have in language education, first and second." Dr. Krashen is currently professor emeritus at University of Southern California.

iTDi Advanced Skills Self Study courses allow you to access and enjoy the content of popular Advanced Skills live courses, at your own pace and at a time that is convenient for you.
About The Path to Academic English Self Study

FREE

00:00:00

The Path to Academic English Self Study 1

00:00:00

The Path to Academic English Self Study 2

00:00:00

The Path to Academic English Self Study 3

00:00:00

The Path to Academic English Self Study 4

00:00:00

Next steps

FREE

00:00:00