Transform your teaching by rethinking motivation with Jill Hadfield. Explore the latest theories, discuss classroom implications, and share activities designed to motivate. Building mostly on Future Possible Selves theory and Second Language Identity you'll learn how to create a motivational syllabus, help learners visualize their ideal second language selves, map their journey, and better enjoy the learning experience. Each motivating live session will be grounded in theory, rich in applied practical takeaway value, and good interactive fun.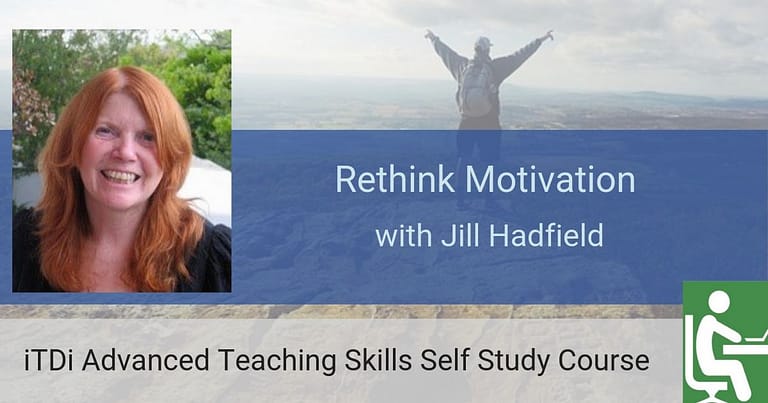 There are many practical, motivating ways to help students improve their writing and feel better prepared for the writing section of a standardized test. This course will explore essay writing from a number of perspectives including basic theory about L2 writing, overcoming initial barriers, developing skills through feedback, and using online tools to efficiently track and improve writing. Participants will see that students can improve their writing relatively quickly, and that they will gain satisfaction watching them grow.
Choose the study option that works best for you
Personal Learning - $59
In this course, you will read articles recommended by the instructor, watch four recorded sessions, and answer four discussion questions. This is not a live course, however, working through these steps will certainly add to your knowledge base. Teachers' feedback on this original live course was extremely positive!
Upgrade to get your professional development certified with iTDi
Professional Development Hours Certified - $79
If you would like to receive a Certificate of Completion verifying 20 hours of professional development credit, email your answers to the discussion questions in a separate word document to
su*****@iT**.pro
for evaluation. Our iTDi team will review your submissions, and confirm that you have invested time into your answers, reflected on your own context, and received a valuable professional development experience. For certification purposes, please tell us your name as you wish it to appear on your certificate, your email address, and the name of course you have completed.
Take this course
Scholarships
As always, iTDi believes that all teachers deserve the same opportunity to improve themselves. Therefore, a limited number of scholarships will be available for this course. Please apply through our scholarship application.
About Jill Hadfield:
Jill Hadfield has worked as a teacher trainer in Britain, France and New Zealand and worked on development projects with Ministries of Education and aid agencies in China, Tibet and Madagascar. She has also conducted short courses, seminars and workshops for teachers in many other countries. She is currently Associate Professor on the Language Teacher Education team in the Department of Language Studies at Unitec, New Zealand and has been appointed International Ambassador for IATEFL. She has written over thirty books, including the Communication Games series (Pearson), Excellent!, a three-level primary course (Pearson), the Oxford Basics series, Classroom Dynamics and An Introduction to Teaching English (OUP). Her latest book, Motivating Learning, co-authored with Zoltán Dörnyei, was published in 2013 by Routledge in the Research and Resources in Language Teaching series, of which she is also series editor.

iTDi Advanced Skills Self Study courses allow you to access and enjoy the content of popular Advanced Skills live courses, at your own pace and at a time that is convenient for you.