English for Teachers (EFT) is an iTDi online course designed for English teachers. Module 2 contains 4 lessons on the theme of 'Being a Teacher'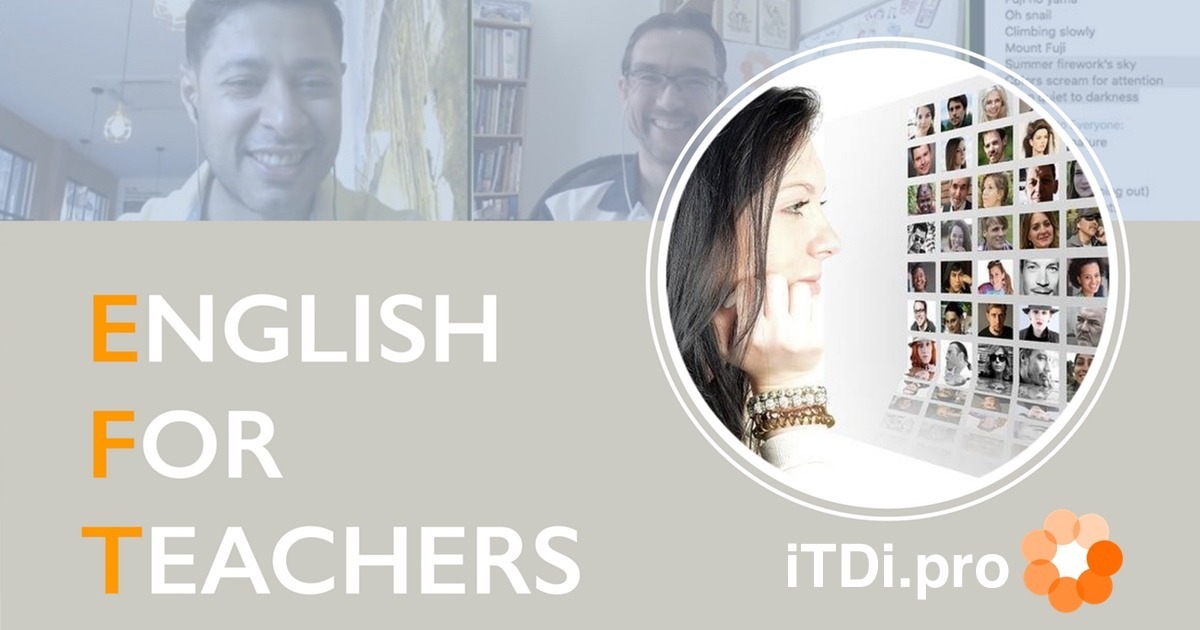 EFT Module 2: Being a Teacher

EFT Lesson 6: How can we make the most of coursebooks?
EFT Lesson 7: What does it take to be a teacher?
EFT Lesson 8: What is the teaching life?
EFT Lesson 9: What do you believe about teaching and learning?
English For Teachers is arranged by Modules. Each module has 4 lessons to take. By taking this course, you are enrolling in Module 2: 'Being a Teacher'.
You must select what study option you want. See the study option details below.
Choose the study option you want:
| EFT OPTIONS | Self-study | Standard | Premium | Exclusive |
| --- | --- | --- | --- | --- |
| EFT Prices per Module | $49 | $149 | $229 | $299 |
| Self-study Lessons Online (x4) | | | | |
| English For Teachers Forum | | | | |
| The Teachers' Room | | | | |
| Weekly Live Webinars (x4) | | | | |
| Pre- & post- Level Assessments | | | | |
| Weekly Essay Evaluations (x4) | | | | |
| Weekly Recordings Feedback (x4) | | | | |
| Two-hours of 1-to-1 Mentoring | | | | |
| PD Hours Certificate per Month | 10 | 15 | 25 | 27 |
EFT Lesson 6 > 'Being a Teacher' 1

00:00:00

EFT Lesson 7 > 'Being a Teacher' 2

00:00:00

EFT Lesson 8 > 'Being a Teacher' 3

00:00:00

EFT Lesson 9 > 'Being a Teacher' 4

00:00:00
Course Reviews
5 stars

2

4 stars

0

3 stars

0

2 stars

0

1 stars

0